20' Single Phase Portable Storage (Freezer)
Rent or Buy Container
Our 20-foot Single Phase Freezer Unit offers ample storage space for your freezing needs. Our Single Phase Portable Cold Storage freezer temperature range is from -10°F to 5°F. This unit is excellent for maintaining your frozen goods.
Request a Quote



























Have Questions About RAVA Groups' Reefer Specifications?
Contact one of our expert representatives for more information on our refrigerated container
• Place Container on Ground or Dock High
• Use Container Inside Location or Outdoors

Ready to cool - Single Phase 20' Portable Cold Storage
• Electrical Requirements: 230 volts, single-phase, 20-amp breaker for cooler, and 25-amp breaker for freezer.
• Additional Features: Options for curtains, LED lights, and side freezer doors (3'x7′) are available.
Get a quote
WHY RAVA GROUP CONTAINERS?
Reliability, cost-efficiency, and 24/7 Service to provide peace of mind to our clients. Your products are safe with us.

In-house Rental Fleet

Certified Techs On staff

24/7 Service

In-house Parts Depot

In-house Trucking

Locations Worldwide
NEED GROUND-LEVEL DELIVERY?
WE NEED Space for delivery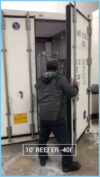 Installation of 10ft Reefer in warehouse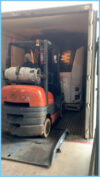 Used Trailer Units X2500 arriving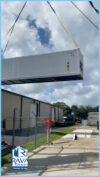 40' Reefer container Crane drop off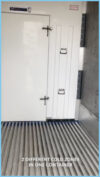 Dual Temperature Reefer
What our customer say about us!