NEOS® 100S
NEOS® 100S Features and Benefits:
Maintains optimal temperature control of perishable products in small cargo areas.
Maximum reliability due to elimination of the road compressor and other components.
Consistent performance at variable engine speeds due to all-electric technology.
Superior reliability and temperature control for small delivery vehicles. For NEOS® 100S our Shipping Containers are In New or Used Condition.
Request a Quote


Have Questions About RAVA Groups' Reefer Specifications?
Contact one of our expert representatives for more information on our refrigerated container
• Place Container on Ground or Dock High
• Use Container Inside Location or Outdoors

Performance Specifications
Condenser Dimensions
34″ x 18.9″ x 8.4″
(864 x 480 x 232 mm)
Evaporator Dimensions
23.9″ x 21.6″ x 6.5″
(608 x 548 x 165 mm)
CAB COMMAND™
3.4″ x 2.4″ x 1.1″
(85 x 60 x 28 mm)
Cooling/Temperature Capacity:
Ambient at 100°F (38°C)
Compressor Speed: 1,000 rpm @ 60 Hertz
Evaporator
Return Air Temp.
Diesel Operation
Standy Operation
Btuh/hr
Watts
Btuh/hr
Watts
35°F ( 2°C)
3,600
1,055
3,600
1,055
0°F (-18°C)
1,300
381
1,300
381
Get a quote
WHY RAVA GROUP CONTAINERS?
Reliability, cost-efficiency, and 24/7 Service to provide peace of mind to our clients. Your products are safe with us.

In-house Rental Fleet

Certified Techs On staff

24/7 Service

In-house Parts Depot

In-house Trucking

Locations Worldwide
NEED GROUND-LEVEL DELIVERY?
WE NEED Space for delivery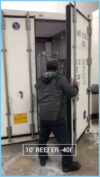 Installation of 10ft Reefer in warehouse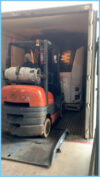 Used Trailer Units X2500 arriving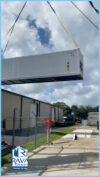 40' Reefer container Crane drop off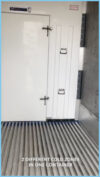 Dual Temperature Reefer
What our customer say about us!