TK486 Diesel Engine Gensets
An exclusive TK486 Diesel Engine, direct injection diesel engine drives a brushless generator to produce 15 KW of output power at 49 C (120 F) ambient temperature.
Engine: Yanmar
Request a Quote


Have Questions About RAVA Groups' Reefer Specifications?
Contact one of our expert representatives for more information on our refrigerated container
• Place Container on Ground or Dock High
• Use Container Inside Location or Outdoors

A weatherproof box fastened inside the unit contains the unit controls. Each unit features a welded, heavy-gauge steel frame with the special sea-going finish; non-corrosive fittings, all stainless steel external hardware, copper tube aluminum fin radiator, and poly-vinyl coating on the engine and generator. SGCM models have 50 Gal Tank
Get a quote
WHY RAVA GROUP CONTAINERS?
Reliability, cost-efficiency, and 24/7 Service to provide peace of mind to our clients. Your products are safe with us.

In-house Rental Fleet

Certified Techs On staff

24/7 Service

In-house Parts Depot

In-house Trucking

Locations Worldwide
NEED GROUND-LEVEL DELIVERY?
WE NEED Space for delivery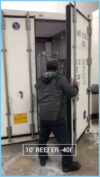 Installation of 10ft Reefer in warehouse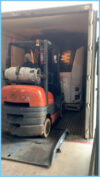 Used Trailer Units X2500 arriving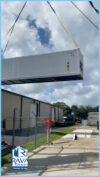 40' Reefer container Crane drop off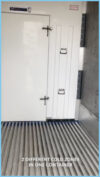 Dual Temperature Reefer
What our customer say about us!